Friday, February 14, 2014
Happy Valentine's Day blog friends!
Also, this happened Wednesday night:
Wednesday, February 12, 2014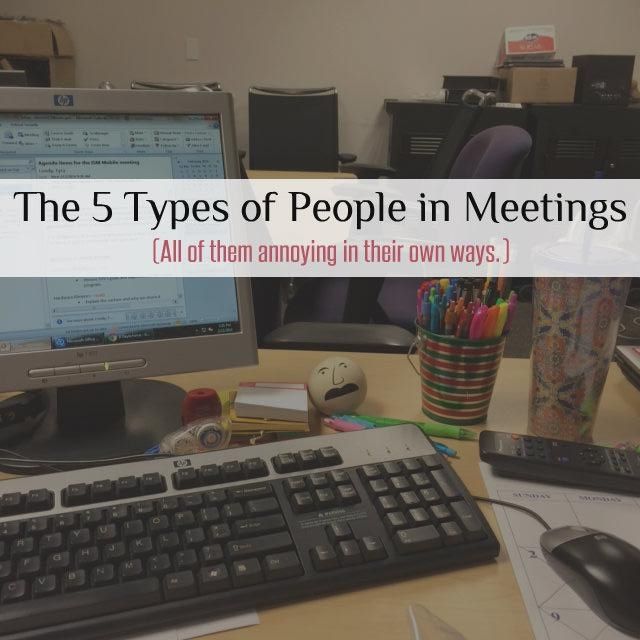 **This post was inspired by a real-life meeting I had to sit through. Please feel sorry for me.
We've all been there. We've all had to sit through godawful meetings. It doesn't matter where you work -- you can't escape them. Besides being just generally terrible, all meetings have another thing in common:
the people you observe in them
.
Today we're going to talk a little bit about the five types of people who are found in meetings.
1.
The Overly Enthused.
This guy is
way
too happy to be here. He'll probably show up with his notepad and three different pens, just waiting for someone to say something worth writing down. Or, he could be the type who writes everything down no matter how unimportant it is.
2.
The Quiet One.
This guy's just as ready to get out of here as you are. In fact, maybe you are this guy. The Quiet One doesn't like to speak up, for fear that his coworkers may kill him for extending the length of the meeting. Also, he probably just doesn't care. The Quiet One comes in different types: maybe a note-taker, maybe a starer. The bottom line with this type is that he doesn't speak unnecessarily. Or at all. #aintnobodygottimeforthat
3.
The Know-it-All.
Usually the group leader. She wanted the meeting in the first place. She's too happy to draw out her ideas on the whiteboard and talk until she's sure everyone understands. Most importantly, she's probably not telling you anything you didn't already know. This person is usually incredibly pretentious.
4.
The "One More Question."
Your favorite and mine. And by that I mean not at all. I would rather gouge out my eyeballs with rusty spoons than listen to one more question.
5.
The One Who Falls Asleep
. No matter what, without fail, they just straight up pass out during the meeting. This person can also be caught snoozing at their desk during the day. Coffee just doesn't seem to help.
So there you have it. As I was writing this I came up with probably ten more types of people. One day, I would loooove to turn this into a people-of-the-workplace type of thing, so if you have a type that you work with, leave a comment and tell me about them!
Which type are you?
Tuesday, February 4, 2014
I can't be the only one who hates Tuesdays more than Mondays, right? If you aren't convinced of how hellish Tuesdays can be, I'm here to let you in on the secret reasons of why it is clearly the worst day of the week.
1. You're no longer refreshed from the weekend.
2. No one else is refreshed from the weekend, so everyone has a bad attitude.
3. Everyone tells their funny weekend stories on Monday, so there are no funny stories on Tuesdays.
4. It is not Wednesday. Tuesday morning is literally the
middle of the beginning
of the week.
5. Bosses generally give you a foot-high pile of work on Tuesdays, and usually it's followed up with "Oh, and it's due by the end of the week." (Maybe this only happens where I work.)
6. I spend my Tuesdays being completely exhausted.
7. If you're in college, this is the day where your classes are an hour and fifteen minutes long. (Thank God that's not me anymore.)
8. There is
nothing
good on tv on Tuesday nights.
***Alright, after getting some feedback on all the "wonderful" tv shows on on Tuesday nights, I am acknowledging it. I hate Zooey Deschanel, so New Girl is out. I also can't stand Andy Samberg on Brooklyn 99, so that's out. So basically there's nothing good on tv for ME. But this is my list, so that's okay.***
9. It is not yet Thirsty Thursday, and if you Tuesday-drink it's just kind of depressing. (Not that I know this from experience...)
10. Tuesday is long shower day. You know, the shower where you actually wash your hair and shave your legs. I know this should make me feel good about myself, but really it just makes me have to stand up longer. Boo.
I wash my hands of this day.
There you have it. A completely all-inclusive list of why Tuesday is the worst day of the week.
*I really do think Tuesday is the worst day of the week, but this list is obviously not all-inclusive, and it's just for fun. I'm not really serious. Kind of.